Bulls is a German electric bicycle organization that was framed through a seller coop in Europe, taking a stab at quality and esteem. The GRINDER EVO is their $5,000 rock processor model, total with drop bars, that develops the more established DAIL-E GRINDER that I shrouded in 2017. That one utilized a lighter outside Bosch PowerPack 500 battery though the new EVO moves up to an inner Bosch PowerTube 500… same vitality limit, however with a more pleasant stylish and lower weight dispersion. This ebike has space for two container confine adornments, and comes stock with an attractive MonkeyLink connector on the downtube. You can expel this embellishment and mount a standard pen, or pay $46 for their extraordinary container.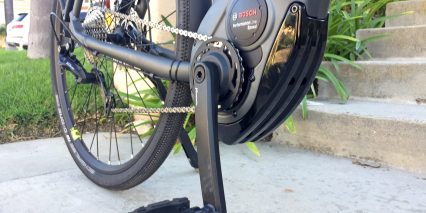 That bicycle included Shimano Di2 electronic moving, weighed ~3.5lbs less (plastic bumpers, lighter battery), and accompanied coordinated Supernova lights… yet it cost $800 more. On the off chance that you need coordinated lights on the GRINDER EVO, you'll need to pay an extra $170 for the MonkeyLink light set. I truly welcome that they're removable, however wish that the fog light was aimable. Likewise, I feel that backdrop illumination could restrain your base seat tallness when appended and get blocked in case you're wearing a long shirt or coat that hangs down. Not at all like the DAIL-E GRINDER, the EVO does not have intelligent tires. Rather, you get studded tires for blended on and rough terrain use. The volume is a bit lower at 28″ x 1.5″ versus 2.0″ yet despite everything they incorporate cut assurance. BULLS settled on a one of a kind metallic dim shading this time around, sections dark, that may emerge somewhat better in low light conditions. There's solitary one edge shading decision, yet I adore the coordinating engine spread and suspension fork. This ebike looks amazing, and it should fit entirely well with three casing sizes to browse and a tremendous system of sellers to visit for test rides. No mid-advance or low-advance casings here, simply the lightweight, solid, customary precious stone high-advance. Body position is fairly forward, contingent upon what hand position you take (pads, hoods, drops) and the spring suspension fork truly removes the edge from extensive knocks. I'd consider swapping the inflexible seat post for a suspension post for further solace, yet this may cause issues with the back light once more, due to how it sticks up. I adore that BULLS has updated the plate brake rotors from 160mm to 180mm to give better braking force, despite everything you get unfathomably quick engine reaction and move recognition since it's running a similar Bosch Performance Line Speed mid-drive. BULLS incorporated extra mounting equipment at the back, so you could utilize an alternate rack (maybe one with a top stage for trunk packs or youngster seats), and a bistro outline lock. I like a large portion of the progressions that the EVO model brings over the DAIL-E GRINDER, particularly the lower cost, yet should concede that I lean toward the bumper mounted Supernova LED light better. The composite bumpers here will diminish rattling commotion, however they add to the heavier generally speaking weight. I likewise miss the removability of the Bosch Intuvia show board and simpler remote catch cushion. The Purion fits well outwardly, decreasing handlebar mess, however doesn't offer a practical Micro-USB charging port. BULLS mounted it higher up, which makes it hard to reach, and the catches can be conflicting now and again (go for the correct edge of the + and - , close to the LCD screen).
Driving the electric bicycle is a game Bosch Speed centerdrive engine. It presents to 63 newton meters of torque and top paces of generally 28mph (45km/h). Despite the fact that it's not exactly as amazing as the CX, which just goes 20mph (32km/h or 25km/h in certain business sectors) it's still bounty ground-breaking in the event that you change into lower gears when climbing. Note that the GRINDER EVO is designed for speed more than climbing. The tape offers 11-42 pinions and the chainring is 22 tooth (proportional to a customary 55 tooth). The engine depends on a controller that estimates back wheel speed, pedal rhythm, and pedal torque more than 1,000 times each second! As it reacts to pedal info, it likewise tunes in for weight changes starting with movements, link development, and at last derailleur situating changes. This is called move discovery, and the outcome is smoother gear exchanging and less wear on the chain and sprockets. This Bosch Performance Line engine weighs about 8.8lbs and is coordinated through a custom base section structure that amplifies ground leeway and looks extraordinary contrasted with the standard plastic bezel utilized by many contending brands… see the Riese and Müller Supercharger for examination. The engine uses a littler exclusive chainring that turns 2.5x for each wrench insurgency, and that enables it to be quick, grasp the chain well, and produce extraordinary power through a decrease outfitting setup inside the engine… however the plan introduces a pinch of drag while accelerating unpowered or over the most extreme upheld engine speed. While I truly like this mid-drive engine and trust the steady execution and unwavering quality of Bosch, I miss the single direction grasp and two-way shifters that Shimano offers versus SRAM. I likewise missed seeing a slap monitor on the correct chain remain, yet that may have been because of this being a demo model… and those are anything but difficult to get post-retail on the off chance that you need to shield the paint from getting oily and chipped up.
Fueling the BULLS GRINDER EVO is a Bosch PowerTube 500 battery with base stacking plan. It accompanies a shading coordinated amalgam spread that shields it from effects and mixes into the casing perfectly. Evacuation is somewhat dubious due to the constrained space between the downtube and textual style bumper, yet the mounting framework offers a two-advance discharge to shield the pack from dropping out and taking harm. I cherish that returning it in does not require the way to be embedded or turned in the locking chamber like many contending structures from Trek and others. You simply drive the pack up and tune in for it to fit properly, as appeared in the video survey above. This battery can be charged on or off the bicycle outline, and the charging port is situated on the left side, which is a bit in the way of the wrench arm… Also, I feel that the elastic spread for the charging port can be dubious to get situated again after it is unplugged, however I value the little rope that shields it from getting lost. For more data on this battery, look at the top to bottom survey on the EBR discussions here. While it's not as lightweight, minimized, or simple to swap between various ebikes as the PowerPack 500, it looks great and open up the casing for more adornments.
Enacting the drive frameworks on this ebike is genuinely direct. You charge and mount the battery at that point press the power catch on the top edge of the little presentation board, which is mounted on a frill bar just to one side of the stem. This is the Bosch Purion show, one of the more pleasant conservative contributions available at the present time. It can't be swiveled to decrease glare effectively, isn't removable for insurance, does not appear the same number of menus, and does not have a functioning Micro-USB charging port like the bigger Bosch Intuvia show that was utilized on the DAIL-E GRINDER. In any case, it keeps the handlebars open, and most likely adds to the lower cost of this model. Despite the fact that the showcase is somewhat littler than some contending items, it's natural enough that you probably won't look down that frequently to peruse it. Additionally, you may probably set it and overlook it in light of the fact that the engine controller is so responsive. It would be decent if Bosch offered eMTB mode for their rapid engine, since this "across the board" drive mode requires less cooperation, and that would suit the less advantageous catch situating here. Anyway, I have developed to acknowledge the Purion, however do have a couple of tips for use as pursues. The + and – catches, which raise and lower help, are intended to click in at an edge towards the right. They are appended close to one side edge of the control cushion and turn in towards the LCD. With training, I have discovered that the correct edge is extremely the sweet spot for predictable clicking. Some of the time the lower left and center territories can be conflicting or non-responsive. The screen itself gleams black out white consistently, which shouldn't draw much power. Holding the – catch will push through outing separation, odometer, help level, and range. What's more, the range menu is dynamic, so you can see the bicycle figure how far it supposes you can go before the battery totally depletes dependent on the last mile of riding, your present condition of charge, and the picked dimension of help. This makes up for the extremely essential 5-bar charge pointer on the left half of the battery and the presentation which isn't as exact as a 10-bar or rate readout seen on some contending showcases. On the lower edge of the control cushion is a walk-mode catch. Press it once and afterward hold the + catch to have the engine gradually help you when strolling the bicycle (you should be in Eco, Tour, Sport, or Boost for walk mode to work). It's helpful for swarmed non-bikeable regions like parks, or on the off chance that you get a punctured tire, and not all organizations have it empowered, so props to BULLS. I've made a top to bottom Bosch Purion survey in the EBR gatherings for more data, much the same as the engine and battery :)